Coach Mini Skinny Wallet
The classic Coach mini skinny wallet is one of the most popular womens accessories of all time! These little mini coin card wallets double as a keychain. They all have a zip top closure and a keychain attached to the inside which can be tucked inside and zipped shut or left dangling outside while the contents of the mini skinny are still safely zipped inside.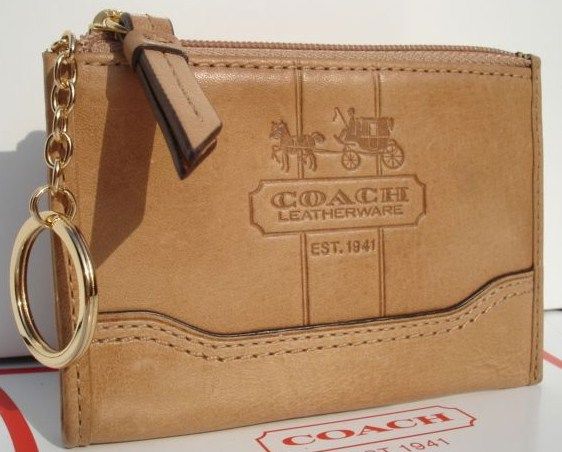 Small Sample of the Many COACH Leather Mini Skinny's
Most have at least one outside open sleeve pocket for your drivers license or credit cards and measure approximately 4 x 3 inches but do vary slightly. They can be found in a mega variety of styles and colors to match anything in your fashion wardrobe like your favorite Coach signature purse. Whatever the line, from Legacy, Sophia, Hamptons, Soho, Exotics, to a pattern or fabric such as scribble, mini signature, OP Art, or Optic, you can bet there's a Mini Skinny to match exactly!
Find these Mini Skinny's in leather, jacquard fabric, patent leather, canvas, PVC and other quality materials in red, green, blue, pink, white, brown, black, purple, yellow and every shade in-between! They are adorable, practical and highly collectible. (visit our Coach color chart for a few common color abbreviations found on the tags)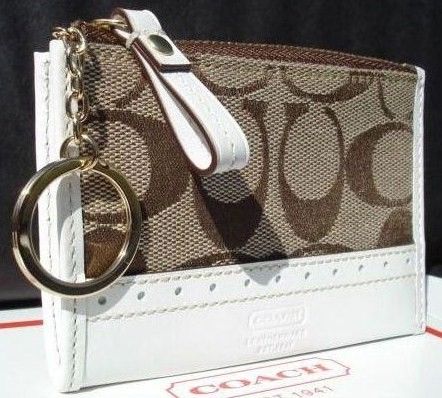 Some Classic Mini Skinny Signature Styles
The jacquard material and other made made fabrics found in the majority of the signature C mini's, such as the classic khaki color, is durable and easily maintained. The material cleans up very nicely with mild soap and water. Most of the other materials and even the leathers are just as easily cared for with little or no special cleaners needed. Of course, you'll need to check your care card to be sure.
A Few Madison Mini Skinny Samples
Duffle or Medium Mini Skinny's
Besides the popular classic rectangular style Mini Skinny, there is also a popular style called a medium, or duffle mini skinny that's made it's way into the line-up over the past few years.
Originally called a duffle Mini Skinny, with adorable detail and buckles on the front, they are now often called medium mini skinny's. The original duffle mini skinny's only lasted a short time and you will not easily find one of these classic pieces. Nevertheless, the name and style stuck and oftem people refer to the medium mini skinny as a duffle mini skinny.
Older Style Medium or "Duffle" Mini Skinny's
These mini's come in all the beautiful colors and fashionable materials as the others but are more of an oblong shape. Almost a banana shape towards the top. Most do not have an outside open pocket so there is no separation of your money and cards. Still very practical with the attached keychain and zip top closure and as adorable as ever! There are lines and styles such as the Madison, OP Art, Mini Signature Lurex and the Parker Mini's just to name a few that incorporate that "Med Mini" oblong style.
Some Oblong Mini Skinny's-Cousins of the Med or Duffle styles
There are new mini's added to the line quite often. These are just some of the more popular styles. Take a peek and see for yourself the many styles and colors in these tiny women's wallets! One word of caution, the purchase of your first Coach mini skinny wallet can be highly habit forming!